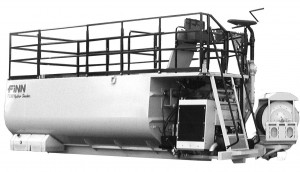 Enquire Now
FINN T330 – TITAN
Finn has been the largest and leading hydroseeder manufacturer for over 60 years – their range is widely regarded as the very best in the world.
Finn machines are built to deliver an optimal balance of power, pump consistency and reliability, with a user- friendly set up and standardised configuration across the range.
Finn Hydroseeders are the number one choice for UK contractors.
Specifications & Performance
Tank Capacity
12 700 litre
Engine
CUMMINS QSB (4.5L) Turbo Diesel Tier III, 170 HP
Mixing system
Double Agitator, Mechanical Agitation with paddles, hydraulically powered, reversible, variable speed
Pump
VORTEX pump, 6" x 3 " (15.2 cm x 7.6 cm), 500
[email protected]
psi (1 900 lpm @ 1 206 kPA)
Weight
5 600 Kg empty / 20 000 Kg loaded
Dimensions
658 cm length, 231 cm width, 247 cm height
Available Options
– Hydraulic hose reel mounted on 3 Position Pivoting Cradle – Additional Boom for 2nd operator – Extra set of Ground Level Controls – Pump Spacer Set for hydro-sprigging – Additional Agitator – Remote Control – RAL paint to match your company colour
Spraying Distance
97.5 metres from canon
Tank empty time
7 minutes with the canon
Mixing capacity
4 500 Kg granular (fertilizer) / 680 Kg Fibre Material (Mulch)
Daily Production Capacity
70 000 m² Hydroseeding / 17 500 m² Hydromulching