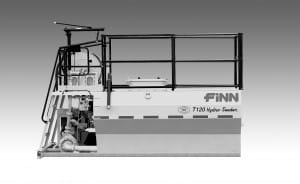 Enquire Now
FINN T120 CE SKID
Finn has been the largest and leading hydroseeder manufacturer for over 60 years – their range is widely regarded as the very best in the world.
Finn machines are built to deliver an optimal balance of power, pump consistency and reliability, with a user- friendly set up and standardised configuration across the range.
Finn machines are the only brand which hold full CE Conformity Marking across the range, essential for contractors that work in all sectors.
Finn Hydroseeders are the number one choice for UK contractors.
Specifications & Performance
Tank Capacity
3785 Litre Working Capacity
Engine
Yanmar 3TNV88C-DYEM, 35.1hp (26.2kw), 1.6 Litre, 3 cylindres, liquid cooled, Diesel TIER IV-F
Mixing system
Mechanical Agitation with paddles, hydraulically powered, reversible, variable speed
Pump
FINN Centrifugal pump, 4" x 2" (10 cm x 5 cm), 170
[email protected]
psi (646 lpm @ 7 kg/cm²), adjustable
Weight
2 070 Kg empty / 7 300 Kg loaded
Dimensions
391 cm length, 208 cm width, 259 cm height
Operator Platform
Operator platform equipped with an ergonomic boom/canon
Hose Reel
Hydraulic hose reel with 60 lm 1 ¼ " hose
Available Options
– Hydraulic hose reel with 60 lm 1 ¼ " hose – RAL paint to match your company colour
Spraying Distance
55 metres from canon
Tank empty time
7 minutes
Mixing capacity
1 450 Kg granular (fertilizer) / 225 Kg Fibre Material (Mulch)
Daily Production Capacity
30 000 m² Hydroseeding / 7 500 m² Hydromulching